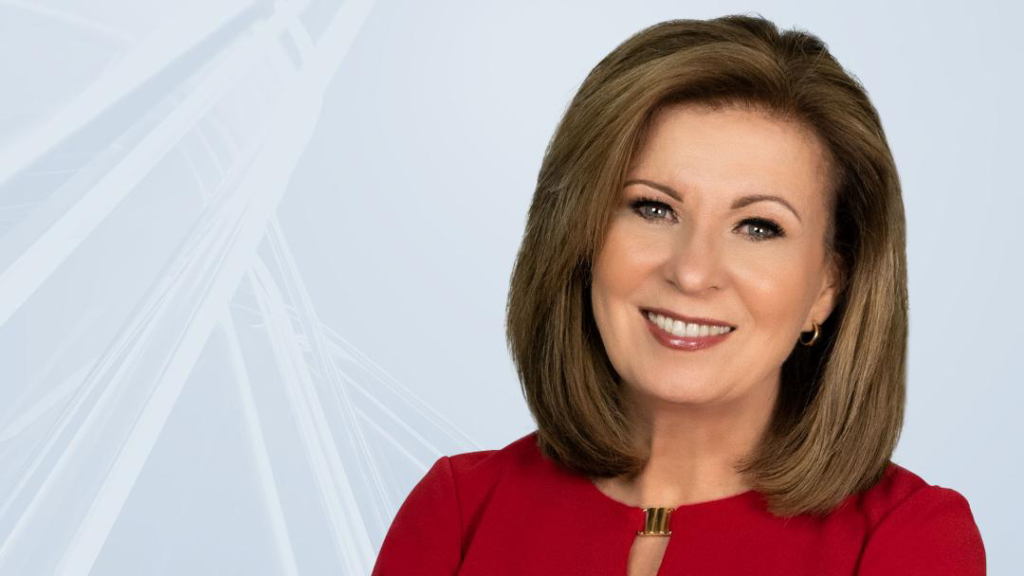 Colleen Marshall anchors NBC4 at 6 p.m., 7 p.m. and 11 p.m.  She also is host of the weekly political program, "NBC4's The Spectrum."
Colleen came to NBC4 as a general assignment reporter in 1984 and was promoted to anchor NBC4's weekend news in 1987.  She became co-anchor of NBC4's weekday news programs in 1992.
Prior to coming to Columbus, Colleen worked at WTRF-TV in Wheeling W.Va., and as an anchor/reporter at radio stations in Wheeling and Weirton, W.Va.  She was also a writer/producer/editor at an all-news Pittsburgh radio station.
Colleen received a Bachelor of Arts degree from Point Park University in Pittsburgh.  In 2004, Colleen graduated from the Capital University School of Law in Columbus, where she was the recipient of a Trustee's Scholarship, was named to the dean's list and was a member of Law Review and the National Moot Court Team. She passed the bar exam in 2004 and is a practicing attorney.
In May 2020 Colleen was honored with a national Gracie Award from the Alliance for Women in Media Foundation.  AWMF recognized Colleen for her outstanding investigative series "Culture of Cover-Up," that exposed the abuse of hundreds of young men over a period of two decades at the hands of an Ohio State University doctor.
In 2018 Colleen was named a Silver Circle honoree by the Ohio Valley Chapter of the National Association of Television Arts and Sciences, an award given to individuals who have devoted at least 25 years to broadcasting, and who have made an enduring contribution to the television industry and their community.
Colleen has received multiple media and community service awards, including eight regional Emmy awards from NATAS.  Notably, she won four Emmys for the health program "I Want To Go Home; A Journey Through Alzheimer's" that documented her mother's decade-long struggle with the disease.  She also received an Associated Press Award for that series in 2012, and was honored for her work by the Central Ohio Chapter of the Alzheimer's Association.  In 2018, Colleen won an Emmy for political reporting for her coverage of drastic state budget cuts at the Bureau of Children with Medical Handicaps.  Her coverage of the presidential election, "The Fight for Ohio," won an Emmy in 2004.   She also received an Emmy for historical reporting for coverage of the renovation of Ellis Island.  Colleen won an Associated Press Best Enterprise Reporting Award for "Ashville Drug Bust" in 2010. She won a reporting award from Media General in 2009 for a story focusing on Ohio Supreme Court Justice Evelyn Stratton, who discovered decades after a random act of kindness impacted the life of her missionary parents that it might not have been so random after all.  She also won a reporting award from Media General in 2007 for a report on Ohio's death row, entitled "Dead Man Waiting." for which she was also nominated for an Emmy. She has been nominated for Emmy's for her political program, "The Spectrum," and for a 2000 report called "Cody's Miracle."  In 2001, Colleen and NBC4's Mike Jackson were honored by the Ohio Society of Professional Journalists' for Best Coverage of Minority Issues for "The State of Race."  Colleen also won the 1999 Stonewall Media Award for her series on transgendered people and her work with AIDS causes.  She has been honored for her community service by the Columbus AIDS Task Force, The Buckeye Region Anti-Violence Organization, The American Red Cross, and Make-A-Wish.
Colleen has had two one-on-one interviews with President Barack Obama, one of which was in the White House. Her most memorable story was being in New York City for a week, covering the aftermath of the September 11 terrorist attacks.
Colleen served as 2001 commencement speaker at her alma mater, Point Park University, in Pittsburgh, and was the 2000 commencement speaker at Ohio's Rio Grande University, where she received an honorary doctorate.
Colleen currently serves as a board member for Columbus Metropolitan Club and is a member of Columbus Bar Association. She frequently speaks on behalf of the Alzheimer's Association of Central Ohio, including the annual Memory Walk, and advocates for the organization at the Ohio Statehouse Memory Day. Colleen was the Chair of the 2013 Red Event to benefit ARC Ohio (Aids Resource Center). She was Co-Chair of Art for Life to benefit ARC Ohio. She was Honorary Chair Friends of the Poor Walk, St. Vincent DePaul 2012. Colleen was a founding member of the Women's Leadership Council for the United Way of Central Ohio and she has been an integral part of fundraising events for Make-A-Wish; WELD (Women' Economic Leadership Development); NAWBO (National Association of Women Business Owners); Alzheimer's Association; Children's Hunger Alliance; the Mid-Ohio Food Collective;  Northwest Counseling Center and Columbus Metropolitan Club.
Colleen and her husband, Gary, have two adult children. Garrett is an attorney who lives with his wife Suzanne in Columbus. Shannon received her MHMR and MBA from The Ohio State University, and is a human resources professional.