2022 Honorees Bob and Mary Ginn Ryan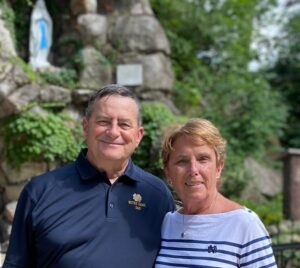 Bob and Mary Ginn Ryan are recipients of the Greater Columbus Irish Cultural Foundation Award for their devotion to faith and family as well as their lifelong contributions to the Irish community and beyond.
It all started in 1971 when Bob and Mary Ginn met on a blind date and, according to Bob, it was "love at first sight."  Two years later, Bob graduated from Notre Dame and Mary Ginn from St. Mary's College. One year later in 1974, they were married at St. Margaret Mary's Church in Chicago.  Bob, a lifelong resident of Columbus, "stole" Mary Ginn from her beloved City of Chicago and settled on the East side of Columbus.  They have been members of St. Catharine Parish for more than 40 years!
Bob and Mary Ginn hoped to have a large family and God blessed them with 11 children and 14 grandchildren.  Bob is Business Manager of the household and Mary Ginn is Owner, General Manager, Coach and Utility Player.  Their involvement in church, school and civic activities is a distant second to what they consider by far their biggest achievement…and their greatest gift to the world…their children.
Bob, III lives in Phoenix and is Principal of Brophy High School;
Kevin works with Bob at Egan-Ryan;
Philip is Partner with Cohen, CPA Firm in Cleveland;
Mark is a Doctor in Pensacola, Florida;
Patrick owns a landscaping company in Canal Winchester;
Brogan is a Priest with the Congregation of Holy Cross;
Brendan is a Teacher at Xavier High School in Cincinnati;
Courtney is Principal of St. Mary Magdalene in Columbus;
Michael is in the Holy Cross Seminary at Notre Dame;
Kathleen is a Nurse Practitioner in Columbus and
Megan works at the Nisonger Center at OSU
In addition to raising such great children, Bob and Mary Ginn also started SPICE, Special People in Catholic Education.  Spice supports the education of children with special needs in participating parishes and schools.  Spice fosters awareness and discussions necessary to embrace diversity.  Because of their efforts, SPICE has been adopted by many parishes and schools and has impacted countless families for more than 20 years.
Bob is President of Egan-Ryan Funeral Home. He and Mary Ginn are proud of its 163-year-old history as the oldest family owned and operated funeral business in central Ohio.  Bob and his cousin Andy are Fourth Generation owners and Bob's son Kevin, Fifth Generation Owners.
Bob's family are descendants from County Tipperary and Mary Ginn's are descendants from County Cork.  Bob's family is proud of their longtime involvement in Irish culture, organizations and history in Columbus.  A family like the Ryan's ensures the tradition of commitment to the Irish community will continue for years to come.  Bob and Mary Ginn are humbled and honored to receive this award.