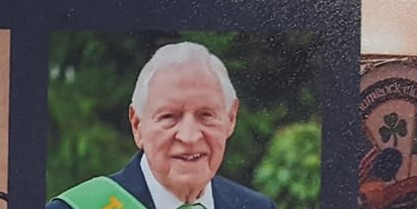 Notes of my Irish Community Involvement:
Shortly before leaving for the Korean War, I was visiting with Dooley and Quinn relatives in Columbus with while on military leave from Ft. Knox, Kentucky. It was March 17, 1952. Instead of with soldiers, I marched with the members of The Shamrock Club of Columbus in my first ever parade, followed by Mass at Saint Patrick's Church and the annual breakfast at the Neil House on South High Street.
After serving in the Army and the Korean War I returned to Columbus. The Shamrock Club meetings were held at the Knights of Columbus Hall at the corners of State and 6th Street. This is where I attended my first meeting. The Club's president was attorney Ed Moriarty Sr. and club dues were one dollar annually. I became a member but did not become active until about the mid sixties. I eventually ran for the office of Secretary, the precursor to becoming the club's President. My platform before the election was to take the club members to Ireland. The chief engineer for the trip was my friend, past president Patrick Fallon, who did a fantastic job of trip organization. The main obstacle was affordability. With the assistance of a travel agency we were able to acquire a TWA Airline plane with 174 seats. We filled every seat for the round trip price of $195 per seat. A number of us took wives and children. Many of us stayed at bed and breakfast facilities, keeping the trip fun and affordable. The trips to Ireland would continue beyond the next decade and under the guidance of Pat Fallon. The Fallon-Quinn Travel Service would transport hundreds of people to Ireland. One year we leased a World Airline two-floor configuration DC-10 with over 370 seats. Every seat was filled.
For many years The Shamrock Club operated out of Saint Patrick Church. Going forward the church would be unable to accommodate the club's needs, and it became our responsibility to find a new home.
In 1987, then Shamrock Club President Joe Davis, asked me to serve as chairman of the newly formed Building Committee. I agreed, but knew to gain a permanent home for The Shamrock Club of Columbus we would need to build a team of specialists in financing, legal, and real estate to name a few. We also needed membership's financial support. We were able to secure a site and temporary financing, and set a goal to apply pledged money to the debt service. Unfortunately, not all member financial commitments were kept resulting in some difficult times. But the club must be commended for its resilience and ability to bounce back. Today The Shamrock Club proudly calls 60 W. Castle Rd home. Not all cultures and fraternal orders can make that claim.
I'm proud to be Irish and to be considered for this outstanding tribute. God bless the Irish!
Towny Quinn